NEAS Australia has led the way in improving quality assurance of online delivery for English Language Teaching since 2017, a full three years before the transformation of ELICOS to online delivery in 2020 as a result of COVID19. Drawing on benchmarking data and quality assurance experiences of more than 200 Australian and international English Language Teaching organisations from all sectors of international education, this presentation showcases how Australian ELICOS can be repurposed for Generation Alpha – our international students of the future.
Exploration into standards, qualitative and quantitative benchmarking highlight how Australian and international providers are transforming their ELICOS programs through online delivery, transnational delivery and embedding 21st Century Skills and more into their programs.
Presenter: Dr Patrick Pheasant
CEO, NEAS Australia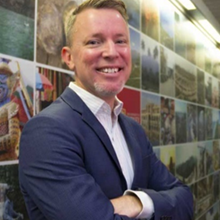 Bio: NEAS Australia is a global leader in quality assurance for the English Language Teaching (ELT) sector. In the role of Chief Executive Officer, Dr Patrick Pheasant brings 30 years' experience in applying drama, TESOL and teacher training methodologies across multiple education sectors around the world. Patrick has extensive experience in change management and leadership development and completed his PhD research at the University of Sydney in using process drama in ELT. Patrick is a past Director at the University of Sydney Centre for English Teaching, past Vice-President of the University English Centres of Australia (UECA) and past Convenor of the NEAS Advisory Council.
Workshop Time: Friday, 1 July from 3:30 pm to 5:00 pm (Vietnam Time).
Workshop Location:
Study Melbourne Hub, Ho Chi Minh City
4th Floor– CIRCO Building, 222 Dien Bien Phu, D.3 – Ho Chi Minh City, Vietnam.